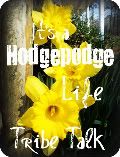 I am participating in Tribe Talk at It's a Hodgepodge Life.
Gay is one of my favorite new blog finds and imagine my surprise when Lanie J. and Co. was listed as one of her 5 picks for the week! Thanks Gay!
Here are mine:
Marie at Permission to Unwind
Gabrielle at iCraft
Jamie at Pure Joy
Tara at New Day New Seasons
If you are interested in participating, this is yet another great way to find other fantastic blogs as well as have others see yours. Click on the Tribe Talk button above to head on over and see Gay. Post your 5 picks and link up! Check out other's tribes while you are there!