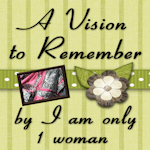 Please welcome my Saturday Featured Blogger/Etsy Shop owner Bobbie. Bobbie is the proud owner of a lovely Etsy Shop called
A Vision to Remember
and a beautiful blog called
I Am Only 1 Woman
. Her shop is filled with gorgeous fabric creations from baby quilts to car seat covers as well as kits and patterns for you to make your own. Her blog features all things crafty, with many tutorials and ideas to get you inspired.
Please tell us a little about yourself Bobbie:
I am the mom of 2 girls (4 and 11 months). I enjoy playing the piano, sewing, reading, cooking and being with my family.
I graduated a year ago with a bachelors degree in business management. All of my instructors thought I was crazy for getting a degree and not using it with a formal job. I enjoy being a stay at home mom and hopefully I will be able to continue doing so.
Please give us a little insight to what your blog and Etsy shop is about:
My blog is basically a snapshot into my craft self. I love sharing tutorials with my readers, introducing them to other bloggers, and updating on my etsy shop.
My etsy shop is full of rag quilts, car seat tents, and lots of patterns for rag quilts, rag quilts, belly band, and fabric flowers.
What made you start blogging/crafting?
I started a blog because all my friends told me I needed to. I love it. I have only told a few friends about this blog, but they are all starting to learn about it. I have always loved to make things, I think that it is in my blood. I just love to share what I do and knowing that others think its pretty cool too.
My mom was always making different things growing up. I remember her and her sisters getting together every couple of years (they live all across the US.) and make some sort of craft. My mom finally pursued her dream of being an interior designer. I think that is where I get my craftiness.
Who does your blog appeal to?
My blog appeals to women that love to create things. I like to make crafts that are frugal (I am a cheapskate) but cute at the same time.
What do you love about blogging?
I love how easy it is. I love the camaraderie that I have formed with my bloggy friends. That is what makes all of this worth it.
What do you hope to accomplish with your blog/shop in the future?
I don't have an end goal in mind. I have never thought that I would have more than a handful of readers, but I do.
As far as my shop, my goal is to lessen the financial strain that crafting can put on us. I am constantly surprised that people like what I do. It makes my day when I sell something and then I stress over it. I always wonder if it will ever be good enough.
Please list the links to 3 of your favorite posts on your blog.
My favorite posts are:
Please share some of your favorite blogs with us.
Some of my favorite blogs are:
Get Your Craft On
Fireflies and Jellybeans
and
So You Think You're Crafty
Please share your top 3 favorite Etsy Shops.
My favorite etsy shops are:
Miss Pretty Pretty
Lil Blue Boo
and
Taffy Jane
Thankyou Bobbie for letting me feature your lovely Etsy Shop and blog today. Don't forget to grab an "I was featured" button from the right sidebar!
If y'all haven't already, be sure to go take a look at
A Vision to Remember
!